Archive for July, 2012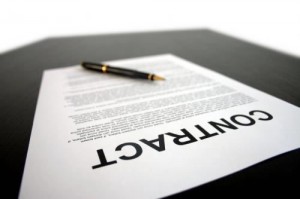 Of course a contractual agreement is always a smart idea when it comes to receiving services for home or roof repair. However, not all contracts are created equal and many may contain hidden terms or conditions that could result in unfavorable consequences.
Read and Review
As one of them most costly repairs to your home, a roofing job comes with many considerations. First, homeowners should know that roof repair contracts come in many forms. Some are to authorize inspections, and some for repair or replacement work. What you may not even suspect to be a legal binding contract can be snuck into your paperwork and hold you accountable for unknown conditions. For example, there have been cases in which a roofer asks the homeowner to sign a paper allowing them to inspect the roof. Unfortunately, this paper also contained language that states the homeowner agrees to hire the company for the job, leaving the homeowner legally bound into a service contract unknowingly.
While the majority of roof contractors are high quality companies that uphold the highest ethical standards, there are a fair number who are operating under unprofessional conduct. Rather than carry a general attitude of distrust, homeowners should stick to applying a thorough mindset for any services they receive by always reading a contract before signing it. In general, homeowners should look for:
A detailed description of services rendered
An outlined cost of the services to be received
A specific date of when the service is to be performed
A specific date of when the payment is to be made
A summary of liability held by the company