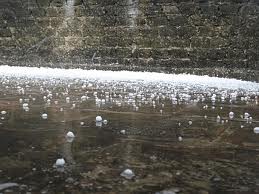 California based Boral Roofing introduces the highest rated hail performance certified roofing tile. The concrete roof tile is Class 4 Hail Rated; it is a weather and impact resistant tile designed for high performance in hail storms.
The Boral Roofing Storm Series roofing solution also provides energy efficiency benefits and may lower your homeowners insurance. According to John Renowden, Technology VP of Boral Roofing "Tile roofs may help you qualify for insurance reductions in hail regions."
Testing of the roof tile proved to be able to withstand 2 inch ice balls hurled consecutively at speeds up to 104 ft. per second.
The class 4 tiles are currently available in the Heartland, Texas and Rocky Mountain regions of the United States were hail storms are common and tend to do a lot of damage to a home.
Concrete Tiles Could Cut Energy Costs
Concrete roof tiles help reduce your energy bills by reducing the demand for heating and air conditioning. The Concrete maintains the inner temperature of the home. The combined effect of the roof tiles, air space and decking allow for better air circulation and reducing heat transfer.
According to a study of National Association of Home Builders, concrete tile, copper and clay tile are the only 3 roofing materials that will last a lifetime.
Boral Roofing also makes a "smog eating tile" for residential and commercial buildings.