Archive for September, 2011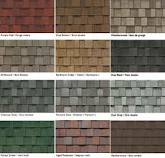 Residential homes still prefer asphalt shingles according to senior director Tom Bollnow at the National Roofing Contractors Association (NCRA). Asphalt shingles account for 70% of roof installation projects. The two types of asphalt shingles are organic and fiberglass.
Low Cost Big Factor in Choosing Shingles
Their popularity is due to their low price, starting at about .80 cents per square foot installed. They come in a variety of colors and styles; they are lightweight, attractive, durable and easy to repair.  Advancements have been made to the asphalt shingles making them more fire retardant, wind and weather resistant and longer lasting. Warranties generally range from 20 to 50 years.
Replacing Shingles
When you spot a possible leak inside your home, you can usually trace the leak to a cracked or missing shingle. Asphalt shingles are easier to repair and replace than most other roofing materials.  Missing or torn shingles can easily be replaced and raised or curled shingles can be flattened with roofing cement.
If you are going to do it yourself, remember shingles are more pliable when warm, a cold shingle can be brittle.  To remove a damaged shingle, carefully lift the surrounding shingles and remove the nails and then slide out the old shingle.  Put the replacement shingle back in place and secure with galvanized roofing nails. Use roofing cement and make sure the edges and corners are firmly set in place.
When To Call A Roofer
If you have more than a couple of shingles to replace or if they come up too easily, you may want to call a professional in to inspect your roof and see if it's time to replace the entire roof system.