Archive for April, 2014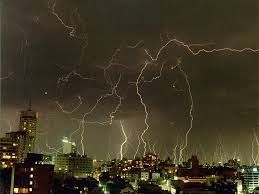 In some parts of the country springtime brings on severe thunderstorms. Checking for damage from winter storms and snow weight now could save you in repairs instead of replacing an entire roof. The cool sunny days are good times for inspecting your roof to determine if it will withstand the high winds and heavy rains for at least one more year.
If you are able to get on a ladder you can survey your rooftop by standing on the top rungs and using binoculars. You want to look for missing, raised or buckled shingles. You can also check the flashings to make sure they aren't bent or loose. If you notice your rooftop is swaying or bowed you will want to call a roofer to determine if you have structural damage.
Checking your attic for roof leaks
You can also get into your attic and check for daylight coming through the ceiling. If you have moisture spots on the walls or ceiling, you may roof damage. It is often difficult to determine where the leak is due to water traveling around your rafters and beams before dripping down.
If you suspect you may have roof problems call a few local roofers to get free estimates. If you were able to do a quick survey you will already have an idea of the work required.
Use caution when choosing a roof contractor. Check the Better Business Bureau in yours and surrounding areas for complaints made about roofers you are considering. Talk with your insurance agent to make sure you are doing what you need to for the work to be covered. Get a contract from the roofer spelling out exactly the work to be performed and never give full payment up front.