Archive for February, 2014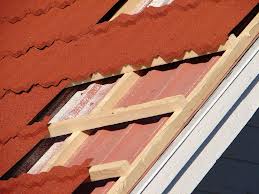 While at the Fort Worth Home and Garden show this last weekend, I met a couple of interesting guys from a local roofing company. Keith and Sam from Classic Superoof "Roofs of Steel" were standing at a booth displaying metal roofing panels.
The product that caught my attention was the Gerard Stone Coated Metal Roofing Systems "Highly UV-reflective granite stone chips which are sealed to the tough zinc aluminum steel substrate". Like they described "It is essentially as if truck bed liner is sprayed on the steel with stone chips embedded and cured in an oven".
After talking with them for a while I decided to check them out online to see what energy efficient information is available for their product.
Recycling Options
The panels are made with over 30% recycled steel and the steel itself is also 100% recyclable. As well as the variety of standard colors, they also have energy efficient colors to help reflect the sun's rays. Since the product is manufactured locally in Texas and California it reduces fuel consumption and greenhouse gas emissions from transportation.
The metal panels are installed over a wooden grid on the deck allowing air flow to pass beneath the roof panels making the cool roof design energy efficient. The Stone Coated Steel system is lightweight enough to be installed directly over existing roofs eliminating the tear off waste that is involved in some jobs.
The roofing system is warrantied for 50 years against hail penetration and 120 mph winds and manufacturing defects. Long lasting roofs also eliminate roof waste and keep roofing materials out of our landfills.
Keith and Sam told me that they bring a machine to the job site that crimps and cuts the panels to the correct specifications for the project saving time and energy by not having to drive back and forth for correct pieces.
Classic Superoofs are located in Hurst Texas. You can get more information about other products and roofing systems they install at www.superoof.com.