Archive for November, 2013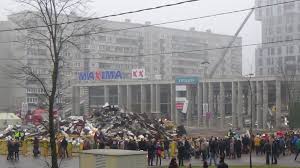 While accepting political responsibility, Latvian Prime Minister Valdis Dombrovskis resigned Wednesday over the supermarket roof collapse that occurred last Thursday.
At least 54 people are dead from the roof collapse in the Maxima Supermarket in Riga Latvia, built in 2011. And another 40 people were injured. Rescue workers continue to search for survivors in the massive wreckage which is one of Europe's worst roof related disasters in several years.
The second collapse occurred after rescuers arrived and a third collapse on Saturday. No rescuers were injured. They are searching through the fallen roof materials and building debris in very dangerous and unstable areas looking for more people.
Trying to determine reason for collapse
Earlier reports indicate the building materials that were stored on the roof caused it to collapse. Other reports indicate faulty building roof-frame specifications or it could have been the work that was occurring on the roof making a garden and children's playground.
Will be examining other buildings for roof repair and faulty structures
Daniels Pavluts Latvia's economics minister said the disaster was "unforgivable" and took part of the responsibility for the collapse since his ministry oversees building projects. He said other important public buildings would receive extensive inspection. Mr. Pavluts said that he will restore some of the oversight policies that were in place before a 2009 decision to disband a national building inspectorate.
Latvia president Andris Berzins said "the roof collapse was like mass murder". He also urges independent experts to investigate the collapse. Police have also started a criminal investigation into the reasons for the roofs collapse.
Latvia's interior ministry said the victim's families would receive 50,000 LVL ($96,600) compensation.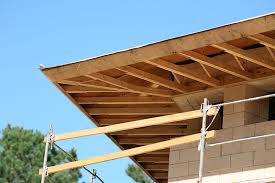 Sheathing is the boards or sheet materials applied on top of roof rafters to form a base on which the shingle or other roofing covering is laid. Sheathing can be made of plywood or solid wood.
Plywood sheathing is used for composition shingles, roll roofing and slate. It can also be used with spaced sheathing if extra strength is needed. Sheathing is covered with tar paper or other water proofing material, and then covered with shingles.
Spaced sheathing is usually made with 1X4's and is commonly used under wood shingles, wood shakes, tile or metal sheet roofs. Generally nailed directly on to the rafters, spaced sheathing can also be nailed over a plywood deck.
Tongue and Groove for Cathedral Type Roofs
Tongue and groove sheathing is commonly used if the sheathing will be visible from inside the house. Using 2X6 boards tongue and grove is very expensive compared to exterior grade plywood sheets. One 4×12 or 4×8 plywood can be installed in 1 minute. Tongue and groove boards would take half an hour to cover the same area.
Your local roofer can replace damaged sheathing when roofing your house. Cut out the sheathing area just larger than the damaged area. Be careful not to cut into the rafters. Cut new sheathing from exterior grade plywood or the same material as your original sheathing. Nail the patch in place with galvanized nails driven into the rafters at 6 inches intervals.
Most building codes have adopted stricter requirements in hurricane prone regions. To strengthen your roof sheathing you can re-nail it with stronger nails or screw it down to help prevent your roofing materials from blowing away in strong winds.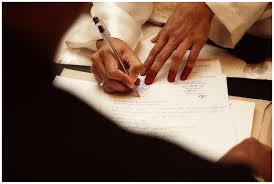 Adding or repairing a roof is a big project in terms of time and money. The job requires skilled roofers to do the job correctly.
There are a few places to find roofers in your area. Yellow pages either online or the book that gets thrown on your porch once a year can be a good starting point. You can also ask your homeowner insurance agent for a list of qualified local roofers or simply ask friends and family.
Try to get at least 3 estimates. Make sure they thoroughly inspect your roof and not just make the estimate from ground level. Just because a bid is the lowest, does not necessarily make it the best choice. The roofing business has some pretty clever scammers who know the tricks to get your money.
Ask for references for similar type work they have completed and give those people a call. Ask if they were satisfied with the work and the crew that did the work.
Check Out Roofers Online
Better Business Bureau is a great resource to check out roofers and roofing companies. Going to BBB.com you can type in the name of the roofer or business name and helpful information will come up about problems that may be associated with these people.
You can also use search engines online to review the roofer. Type in the name, business name or even the phone number and reviews both good and bad should show up. Craigslist is a good place for people to post "rants" about work they have had done.
When reviewing the contract check to be sure everything is listed in clear language. If you don't understand something, ask. The contract should include precisely what work is being done, schedule and time frame, payment schedule, clean up, warranties, and any other items you discussed during the inspection.
And last but not least, be sure you inspect the work and the tear off debris is all cleaned up before you sign off on the job and submit final payment.