Archive for November, 2012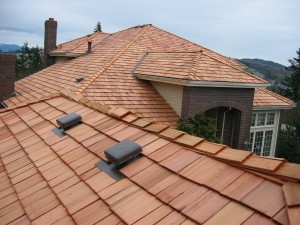 Roof materials come in just about every type of material imaginable. Everything from recycled plastic and rubber, to earth friendly clay or slate; choosing a roof material for your home can be tricky. While many people like the look of a wood shake, there are some things to know about the benefits and drawbacks before having your roof replaced with these alternative tiles.
The Shakedown
Wood shake roofs are preferred for their natural look and unique appeal. Often used to dress-up homes in rural or remotely located homes, the wood shake looks quite different from other traditional roof materials. Their texture, pattern and color variations often lend to an earth friendly aesthetic.
While wood shakes are beautiful, the price for that beauty can be high. Wood shakes made from high end lumber, such as cedar, can easily cost you three to four times the cost of a asphalt shingled roof. On the positive side, that cost can be an investment when the cedar shake roof outlasts an asphalt shingled roof by 10 or more years. However, the life of any wood shake roof is influenced by the climate in which the home is located.
Wood shakes are not the best roof material choice for high humidity climates, or those with insect infestations. High moisture areas can leave wood shakes damp, leading to problems with mildew and mold; both of which compromise the integrity of the material. Insects are another problem that can easily damage and destroy a wood shake roof, leaving the life of the roof significantly decreased.
As with any roof repair or replacement job, it is a good idea to consult a local roofer before choosing which type of roof you want to install. Their knowledge and expertise can ensure you pick the most durable and affordable option without compromising on durability.