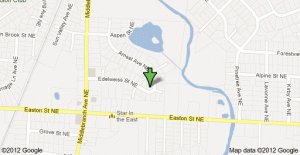 In Plain Township – Stark County, Ohio, an apartment complex owner was surprised last week by roofers removing the shingles from his building. Ordinarily it would be a good thing to see them men on the job, the problem was, that he didn't order a new roof.
A crew from Anthony Roofing assumed the job was at 6661 Amsel after arriving on the job and seeing that shingles and a dumpster were already there. The job was supposed to be at 6636 Amsel Ave., across the street.
Snowball of Errors
The start of this issue apparently was when the dumpster for job waste and old shingles was delivered to the wrong address. When the driver with the shingles arrived and saw the dumpster they unloaded the shingles at that address. The roofing crew arrived before the boss and started work at the address that the dumpster and shingles were.
Dale Rieger, owner of the six-unit building received a phone call from Tony Garman, owner of Anthony Roofing explaining they had removed the shingles and roofing paper from half of his building's roof before the error was discovered.
Garman offered to replace the entire roof with only the cost of the shingles to Rieger. When Rieger insisted he did not have the funds for the roof at this time, Garman said he would replace the shingles and roofing paper his crew removed with better shingles at no cost.