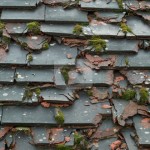 How do you know when it is time for roof repair or a new roof? Sometimes it's obvious, like when a tree has fallen and taken out part of your roof, or buckets of water are filling up from leaks in your ceiling.
Roof Basics
A roof should last about 15 years depending upon the maintenance provided. Generally it is common to replace a roof when 1/3 of it is damaged. Trying to make repairs could end up costing more than a new roof.
Signs of damage can be easy to see like leaking from the ceiling during a rain or curling, rotting and missing shingles or seeing daylight through your roof. To less obvious signs like a rise in your energy bills, or signs of water damage in your attic.
Age of the roof and the climate you live in is also a factor. If the interior walls show signs of bubbling or missing paint, brown streaks, or moisture this is indicative of water seepage. If you have wooden shakes on your roof, you may also need to check for termite damage.
Besides damage, a few other reasons you may need a new roof is faulty design, or the wrong materials being used while building the roof.
Knowing what to look for is helpful when you contact a professional for advice. It is best to get 2 or 3 opinions and estimates. Your homeowners insurance or warranty on your home or roof may also help you pay for your new roof.
Contact Roof Rocket for Assistance