Archive for March, 2013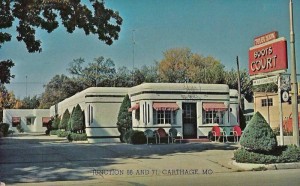 In Carthage Missouri the historical landmark Boots Motel is being returned back to its original look from back in the 1940's. Sisters Priscilla Bledsaw and Debye Harvey bought the hotel 2 years with the intention of restoring it and getting the hotel in the National Register of Historic Places.
The property has been sold many times and was used as a rental property for years pushing it into severe disrepair.
Grants and Donations Helping Pay for the Project
The roofers are currently tearing off the 1970s gable roof and replacing it with the original roof-line which was a flat roof. A grant from the National Park Service's Route 66 Corridor Preservation Program is paying for part of the roof the rest is coming from the owners and donations. The owners hope the roofing project will be completed within 3 weeks.
The new owners opened the office and five rooms in the 1946 annex building to route 66 travelers. The money from the rentals and souvenir sales will be used to restore the 8 original rooms in the main building.
Other work besides the new roof, will be restoring the original sign, and opening holes in the parapet walls to return the motel to the original design.
Harvey said "The room windows had sort of a scroll work design in neon around them. And the canvas awnings will be re-fabricated and reinstalled. We're hoping we can use the same Carthage Company that did the originals."
The hotel opened in 1939 and was originally Boots Court at 107 S. Garrison Avenue. The owners Arthur and llda Boots advertised "a radio in every room" and each room had a covered carport.