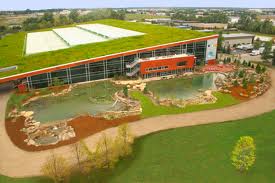 Owners of Aquascape in St. Charles are suing nine parties for $13 million in damages after the green roof partially collapsed two years ago. The section of the sloped roof that collapsed was 500 foot by 60 foot of the 256,000 square foot structure.
No one was injured when the 5 year old roof came down on February 13, 2011. The building is at 901 Aqualand Way in St. Charles Illinois.
$13 Million Payout
Aquascape's insurance carrier paid out $13 million to cover reconstruction, damages and cost to move employees for a year while the roof repair is being completed.
The building at Aquascape's headquarters has a gradual sloping roof from the north end to the south ends lowest point and continues on with an open parking area.
Aquascape makes water gardens, ecosystem ponds and backyard pond designs.
The roof is covered with prairie grass and other vegetation intended to absorb rainwater and provide natural insulation. The suit states that "the structure was not appropriately designed and constructed."
The nine companies being sued are Artisan Design Build LLC, Senektekts, Tricon Construction, Tecza Environmental Group, Applied Ecological Services, Metallic Building Co., Olsson Roofing, Dewberry Architects and Area Erectors.
Area Erectors denies any wrongdoing and states they only followed the blueprints and did the work exactly how it was supposed to be done.
The suit for negligence and breach of contract was filed in Kane County and the court case is set to begin on May 16, 2013.