Archive for September, 2012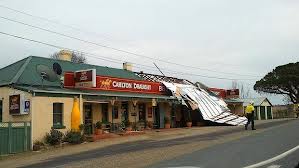 The Bredbo Inn Hotel in New South Wales had their roof ripped off from high winds at about 5am Friday morning. Winds gusts up to 90km/h hit south of Canberra during the storm. Bedbo Inn manager Mary Bligh and her partner Allan Michael where the only ones there when the roof and power lines came down.
More Damage Expected
Ms. Bligh said "it was a blessing we didn't have any guests." Roof materials and debris was spread across the Monaro Highway after the storm. More water damage is anticipated since the open area could not be covered with tarpaulins for fear of causing more structural damage to the historic building.
With no electricity, beer or a roof, the bar plans to be closed for several days and the hotel wing will be closed for 2-3 months while putting on a new roof.
First licensed in 1836, the hotel bar has one of Australia's oldest liquor licenses. The hotel was built for stage coach travelers, part of the original building and stables are still used.