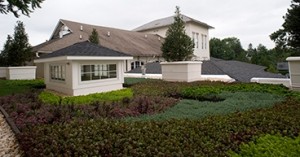 In Lititz Pennsylvania, Linden Hall School for girls has just opened their new Evita M. Allen Center for Academic Excellence. The new 28,000 square foot facility has the first green roof in Lititz. The green roof will improve the air quality and reduce and purify rain water runoff.
Keystruck Construction Inc. began the project in May 2011 and completed it in August 2012. Chambers & Associates Inc. designed the center and Erb Brothers Landscaping, Creek Hill Nursery and Derck & Edson Associates handled the landscaping and plants.
Using the LiveRoof tray system, Steve Sproles of Derck & Edson said "trays often come premixed, but this new roof was custom designed to feature waves of color and plants that flower in different seasons, as it is easily visible from the school's library."
Along with the living roof that can be viewed from the third floor porch, the new center houses the school's administrative offices, a multimedia library and research center, flexible classrooms and a new computer lab.
Founded in 1746, Linden Hall is the nations' top ranked college preparatory school in the United States. The 47 acre campus is a day school and boarding school for girls.