Archive for June, 2011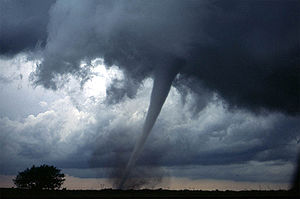 Researchers show much of the damage from tornadoes comes from homes not being secured together adequately. If you focus on windows and doors, and tie your truss into roof rafters and anchor the roof to the walls with metal clips and straps and then securely anchor your walls to the foundation; your home should be able to withstand winds at 110 to 120 mph.
The institute of Business and Home Safety in Tampa Florida says that 77% of tornadoes have wind speeds of less than 110 mph. It may cost 2-3% more to connect your house together, but the savings will be evident when your home is still standing after high winds rip through your neighborhood.
There are no tornado building codes; most cities require codes for earthquakes, hurricanes and floods. FEMA estimates to build an 8 X 8 foot safe room inside your home, it would cost $6,500 to $8,500
According to the Florida Institute, 110 to 120 MPH winds can destroy a typical house in 4 seconds. The problems begin when the wind carrying debris shatters doors and windows, then air rushes in your home and the structure is pressurized. The internal pressure builds and pushes against the ceiling and roof. The roof is also getting pressure from the outside wind. Once the roof blows off, the walls can collapse.
While your home may not stand up to a direct hit from a severe tornado, connecting your roof to walls, and walls to foundation will help your home survive.

NASA is nearing completion on its $20 million Sustainability Base. The futuristic building is at NASA Ames Research Center in Silicon Valley at Moffett Field, California. The base is due to be completed in July 2011.
The federal government is touting the building as its greenest building of the year. Compared to similar sized office buildings, the base will cost approximately 6% more to construct. NASA says the building will cost less to operate and the money will be made up within 10 years.
Among other design features, the 50,000 square foot building has photovoltaic solar panels covering the roof and on patio umbrellas contributing to 80% of the power.
The building's space age technology, originally developed for NASA spacecraft, will intelligently control the building through a computer system. The Sustainability Base is designed to cool itself from geothermal wells that route naturally cooled water from underneath the ground through pipes and cooling panels inside the building instead of traditional air conditioning units.
The narrow building was designed so natural light could come through the floor to ceiling lights and the skylights on the second story. The building's computer can also close or open windows and adjust lighting from the windows.
AECOM and William McDonough + Partners architectural firms designed the building and it is being built by Swinerton Inc. construction.