Archive for the 'Roofing Laws and Regulations' Category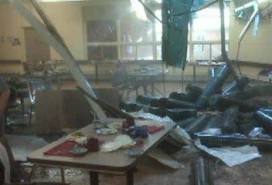 In Calgary Canada Canterbury Roofing Ltd. received a fine of $15,000 after being convicted of creating an unsafe condition under the Safety Codes Act of Alberta.
While working at the long term care facility Clifton Manor on April 13, 2011, the roofing company placed heavy pallets on the roof causing it to cave in. No one was injured when the pallet of roofing materials weighing approximately 1,224 crashed through the dining area.
Residents Where under the Roof Moments before It Collapsed
At the time of the collapse, Clifton Manner staff was serving lunch to 15 elderly residents in the dining room. When the staff heard the cracking noise above their heads they were able to move the residents, most of who are in wheel chairs, out of the way.
Judge Brian Mason convicted and gave Canterbury Roofing Ltd. the maximum fine the law allowed on Thursday October 25th.
Chief building official Kevin Griffiths said "no one was injured in the incident but there was the potential for injury or worse." He went on to say "this was a very serious matter; the city's investigation revealed the company did not adequately ensure the roof would be able to hold the building materials. We did not see the due diligence done by this contractor".
The city of Calgary has lobbied the provinces Municipal Affairs ministry to significantly increase the fines and is waiting for approval to raise the maximum fine for first time offenders from $15,000 to $150,000 and raise the maximum penalty for second time offenders from $30,000 to $500,000.