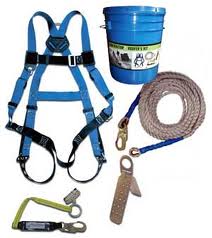 JC Silva Remodeling Services in Bridgeport Connecticut has received more than $70,000 in fines for violating fall-protection standards at 2 work sites. Three separate OSHA inspections revealed that workers did not have adequate fall safety equipment and lacked fall hazard training.
While installing a skylight on a 2 story condo, one of Silva's employees fell to his death, prompting the initial inspections by the Occupational Safety and Health Administration. 46 year old Francisco Amarel fell 39 feet while on the roof of Sunwood Condominiums in February.
Police Called OSHA To Scene of Death
OSHA inspectors visited JC Silva's other two sites after receiving complaints to the Bridgeport office.
The Department of Labor issued a stop-work order at the jobsite at Sunwood Condominiums when they found the workers did not have workers compensation insurance and the company misclassified workers as independent contractors.
Another jobsite in Norwalk revealed the workers were performing roof repairs and on a ladder jack scaffold with no fall protection. JC Silva Remodeling was cited with "willful violations" since they had already been cited for similar hazards. Other violations included employees using pneumatic nail guns with no eye protection.
JC Silva Remodeling has resumed work on the 168 unit Sunwood Condominium complex. The complex is receiving major renovations including new roofs. Since being issued the citations on Friday, the owners of JC Silva have 15 days to schedule an informal conference with OSHA.