Archive for the 'Stadium Roofs' Category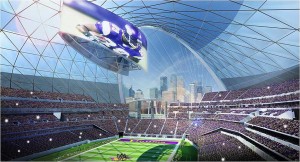 As the installation of the roof goes up on the new Viking football stadium, many questions have been raised about some of the materials being used. Covering some 240,000 square feet, the new stadium will be largest in North American to use ETFE.
Coatings to Coverings
ETFE, or ethylene-tetraflouroethylene, is a co-polymer resin that is extruded into a thin film. The plastic-like material is use to create a durable, yet light weight, covering for the roof of buildings.  Unlike glass, ETFE is corrosion resistant; while also blocking out much of the sun's harmful UV rays. Even with its weight 1/100 of that of traditional glass materials, ETFE can handle snow and wind loads comparable to other roof materials.
For the new Viking stadium in Minnesota, the ETFE roof will allow for sunlight to reach the stadium seats and reduce the chances the building suffers another devastating roof collapse. Although ETFE isn't a household name in roofing, there are many notable facilities around the world already benefiting from this great product. The Water Cube building in Beijing, China, the Eden project in Cornwall, UK, and the Allianz Arena in Munich, Germany are just some of the noteworthy buildings boasting ETFE roofs.