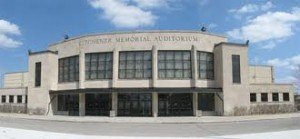 The Kitchener Auditorium in Southern Ontario has raised the roof as part of the remodel. The auditorium commonly known as "the Aud" to residents received a $12 million retrofit.
The construction was going on while the auditorium was still being used making for some difficult challenges. The structural steel addition was built over the top of the auditorium. The old roof was not able to come down until the new roof was weather tight; problem was the cranes were too big to fit inside the building for the demo job.
Crane Lines Lowered into Holes in Roof
They made holes in the new roof for the crane lines to pass to demolish the old roof, including the roof membrane and deck. The old roof materials were taken apart from one end and then rolled across the roof on carts to be hoisted down the exterior wall. The steel beams had to be lowered and then cut up and removed.
Structal of Quebec fabricated the new steel structure and roof. And ES Fox Ltd. Of St. Catharine's erected the steel. About a dozen carpenters were on hand to complete millwork, concrete formwork and other elements.
The demolition was completed in 3 weeks and the 60 year old building was remodeled in time for the Rangers first home game on October 19th.
Kitchener Auditorium was officially opened in May 1951; the building had state of the art flooring which allowed the conversion from a hockey arena to a concert hall in 24 hours. It was the 4th largest of its kind in Ontario.