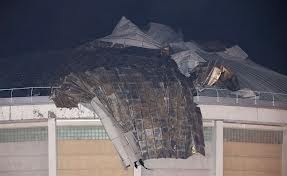 In Montreal Canada Thursday 16,800 square feet of aluminum roof membrane was ripped from the roof of the Maurice Richard Arena. No one was injured when the violent 60 kilometers an hour wind crumpled the arena roof.
The arena has been undergoing renovations for the past two weeks, 60 percent of the roof membrane had already been removed. The full renovation project is scheduled to be finished by early January.
$3 Million Roof Work
Part of the $5.7 million renovation includes replacing the roof membrane with a new roof of stainless steel covering half a millimeter thick. Any extra costs due to the storm are expected to be covered by the contractor's insurance company.
When the crew arrived to work on Friday morning they discovered peeled back sections of the metal roof hanging from the southern edge of the dome and parts of the roof had been blown onto the nearby arena grounds.
Approximately 1/8 of the original roof membrane was left intact on the roof. The 60,000 square foot arena and original circular dome were built back in 1958.