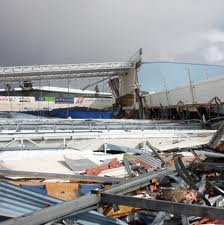 The $10 million roof at Southland Stadium in Invarcargill New Zealand, buckled in 2010 due to heavy snow, construction defects and design problems. Approximately 30 people were inside the stadium when it collapsed, fortunately no one was hurt.
Nearly 18 months after the collapse, the conclusions were released in a detailed report by consultants at the Department of Building and Housing. The investigation was performed by Hyland Fatigue and Earthquake Engineering using site examination, laboratory testing and 3-D computer analysis.
Defective Design
The report also stated that sagging was noticed when the new roof was first being built and the subsequent roof repair work was inadequate. It also states "defects in the construction of the steel tube truss roof, particularly those portions that involved welding on site, appear to have significantly reduced the ability of the roof to sustain the intended design loads and the snow load experienced at the time of the collapse."
Insurers for the Southland Indoor Leisure Centre Charitable Trust are suing Invercargill City Council and the consulting engineer for $27 million. The disagreements are over the substandard building design and construction.
The Building and Construction Minister Maurice Williamson said "These are serious issues that have been properly investigated." The report was sent to the police and Department of Labor and the Institution of Professional Engineers New Zealand (IPENZ).