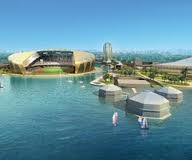 The Singapore Sports Hub in Kallang will soon be getting the worlds' largest dome roof over the new National Stadium. The 310m dome will cover the whole 55,000 seat capacity stadium plus the multi-purpose field. Spending $1.33 billion, the steel roof can be open or closed within 25 minutes.
The 20,000sqm retractable roof will surpass the current largest roof which is the Cowboys Stadium in Arlington Texas. Construction of the roof began in June and is expected to be completed within 2 years for the official opening in April 2014.
Roofers Getting the Work Done
Contract Director Chen Shee Shann of Dragages Singapore, one of the equity partners said "we awarded the contract for the steel roof structure early last year and by November or December we got all the roof materials in and started fabrication. That part of the risk is already over, now it's getting the work done."
One of the designers of the roof, Clive Lewis of Arup said "on the critical path, the dome roof is one of the first things we worked on."
The stadium is being built on the site of the previous national stadium which was closed in June 2007. Construction delays have slowed down the progress originally planned for completion in 2011.
The sports hub is the largest sports facilities infrastructure project in the world. With its world class facilities, the Sports Hub will be the center for Singapore's elite athletes as well as an ideal location for sports and entertainment events.