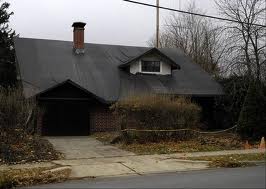 In St. Charles Illinois a man is faced with going to jail if he does not submit new roof plans. Clifford McIlvaine has been doing repairs on his home for the last 37 years with no end in sight.
Kane County Judge Thomas Mueller ruled that if McIlvaine doesn't submit code-compliant roof plans by Wednesday, he will consider putting McIlvaine in Jail. He has already been found to be in contempt of court for failing to meet several construction deadlines imposed by the court.
McIlvaine was sued by the city in 2010 pushing him to finish the renovation project. A work schedule was agreed upon and McIlvaine hired his longtime friend and contractor Jim Webb to finish the job.
Vehicles in the Yard for Last 12 Years
The city and his neighbors are frustrated with the condition of the home. A box trailer has been in his yard for 11 years. Vehicles have been parked under a tarp outside the garage for the last 12 years.
City officials have requested a search warrant to check out the remodeling work. McIlvaine believes the city is 'picking' on him and they have no right to inspect his home or property.
McIlvaine has been living in the house his whole life and says he is an independent thinker and likes to build things that last.