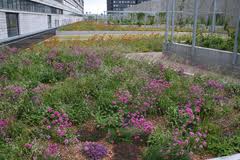 In 2010 Secretary of Energy Steven Chu issued a memorandum directing that all Department of Energy sites install cool roofs when it is cost effective, basically when a roof needed to be replaced or repaired. According to Jennifer MacDonald, director of DOE's Sustainability Performance Office, the cost is comparable when installing a cool roof versus replacing a standard roof.
So far the Department of Energy has installed approximately 160 cool roofs on government buildings. Chief among the reasons agencies are installing cool roofs is the energy savings.
National Archives in College Park Md. And William J. Clinton Presidential Library in Little Rock Ark.
Two buildings for the National Archives have installed combination of green and white roofs with the addition of solar panels on the sunniest locations. Another benefit is reducing the storm water drain off since the rainwater waters the green roof and prevents excess water entering into the Chesapeake Bay.
Mark Sprouse the director of the National Archives Facilities and property management division said "by the time we removed the old roof and put the new roof on and put the solar panels in and tied them into the building electrical system, it took about six months. " He went on to say "It saves energy by two ways, it reduces the heat load underneath the roof so we don't have to cool as much. It reflects the sun and the solar panels are producing about 30 kilowatts of power on a bright day, which we feed back into our building electrical system. "
The green and white roofs are part of the Executive Order 13514 that President Obama singed in October 2009 to established goals for agencies to reduce greenhouse gas emissions and increase energy efficiency.