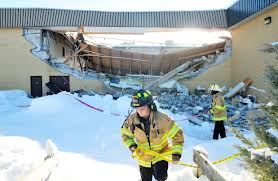 The Northgate Lions Seniors Recreation Center in Edmonton Canada has re-opened after the gym roof fell in on January 25, 2011. The roof and wall collapsed while the Choralaires were rehearsing songs in the auditorium. No one was injured when they evacuated everyone from the building.
Mayor Stephen Mandel said "This is a very happy occasion. The center is more than just a building – it's a community gathering place."
Still Unknown Why Roof Fell In
The insurance covered most of the $5.8 million for the 48,000 square foot roof repair. After insurance and engineering firms studied the collapse, there is still no clear reason why the 38 year old building's roof collapsed.
The City of Edmonton contributed $680,000 to the building upgrades and $162,000 was donated by the North Edmonton Seniors Association.
Staff and volunteers worked hard to disperse the nearly 400 programs to another rec center, five community buildings and two churches, plus the public library.
Along with the new roof and a fresh coat of paint, the senior center received some upgrades. The doorways are wider, the washroom was updated and a replacement elevator that can now stop on the gym stage was installed.