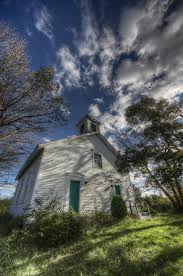 A Historic Acushnet Massachusetts church is in bad need of repair. The 161 year old abandoned church was seized by eminent domain earlier this year. Voters authorized $25,000 for repairs but the town selectmen are asking for an additional $4,000 for a structural analysis and roof condition report.
During a clean-up of the old roof and debris, Building Commissioner James Marot discovered roof problems with the trusses and rafters. He suggested a structural engineer should professionally inspect the roof and offer a repair proposal with a full analysis report.
Necessary Roof Upgrades
Marot said the trusses will likely need to be upgraded and rafters repaired before a new roof can go on the building. Any roof upgrades should not be visible to keep the integrity of the only Greek revival church left in Acushnet.
The Acushnet Historical Commission would like to have the church added to the U.S. Register of Historic Places. Properties listed on the National Register may qualify for tax incentives and grants from the United States federal government.
The historic church is on Perry Hill Road and was completed and dedicated in 1851. The church has two front doors, one entrance was for the men and the other was for women to enter the church.