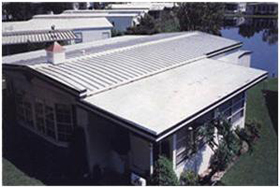 Mobile homes are affordable housing for many people, but they do face challenges that a slab foundation home doesn't. In general, mobile homes tend to carry a higher need for general maintenance and the roof is a prime example.
Beat The Heat
Most mobile homes are made from metal, which means that a metal roof is its main source of protection from the elements. While metal roofs can be one of the  most weather resistant roof materials, their durability depends on the type of metal used. The metal used for most mobile homes may not be of the highest quality, nor have the appropriate coverings.
One of the best ways to improve the durability and energy efficiency of a mobile home's metal roof is by applying a "cool roof" coating. Applied by a brush or a roller, these white elastomeric coatings increase the reflectivity and emissivity; both of which disperse the heat from the sun and prevent it from being absorbed into the home. Not only will the coating help keep the home cool, but it will improve energy efficiency and reduce the costs of keeping the home cool. White roof coatings are a green roof system that works to benefit both the home owner and the environment.