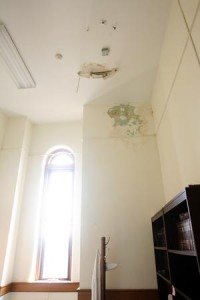 The Menard County Courthouse in Illinois is in need of serious roof repair. The near 50-year old roof has been leaking for years, and the 116-year old building is being damaged with the continual roof problems. While the decision to replace the roof came easy, the price for the work comes as quite a shock.
Costly Leaks
When it rains, it pours; literally. The Menard County Courthouse is currently using buckets to catch all of the water when it rains. Last repaired in the 1980s, the damaged roof has since gone unrepaired. Now compromising the integrity of the county's historic courthouse building, city officials are growing increasingly concerned.
The roof comes with an estimate price tag of nearly $1.45 million, $1 million of which will go directly to the cost of repairing the building's copper dome. With such a costly expense, city officials know they don't have the money for the work and are still weighing options to fund through local bonds or build a new facility entirely.