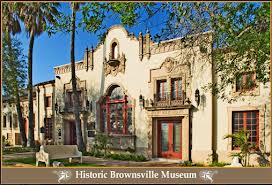 Brownsville Texas' Historic Brownsville Museum is getting restored to look like the original 1928 structure. The roof tiles are a combination of 6 shades of red, imitating the Spanish colonial revival style that the roof was designed.
Before restoring the tiles they had to be cleaned. They originally thought there were 3 colors and discovered there was 6. The laborers had to make the tile colors blend without looking like a pattern.
New Tiles Mixed with the Old
The new tiles came from Ludowici Roof Tile in Ohio. They come with a 75 year warranty and any leftover tiles can be sold to the city for the other buildings with the same roof style.
The new roof and parapets will cost about $175,000 to repair and restore. The cost of complete restoration of the lower part of the museum will cost just under half a million dollars.
The building was originally a train depot for Southern Pacific Railroad. In the 1950's the station was retired and the building became a museum in 1986. The museum has a variety of exhibits from Brownsville past. The structure is listed with the Texas Historical Commission.