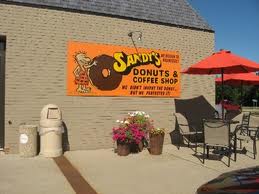 In West Fargo, North Dakota some of the residents went through donut withdrawal when an institution in the community was closed down for three weeks. Sandy's Donuts owner Mark Ostlund closed the shop for renovations.
Oslund said "People would come up and just be like well, what am I going to do? I can't get my donut?"
The roof of the shop was replaced due to breaking trusses. Since they were doing the roof repair anyway they decided to give the building an update. As well as replacing the overhead wiring, plumbing and ductwork, they also changed the original sloped roof edge and replaced it with a new roof that has an edging that is a combination of metal siding and terra cotta.
Newly Remodeled Donut Shop
Other renovations included removing some of the walls in the kitchen area, and getting a new walk in freezer. Old signs are being replaced with new back lit signs in December. Future improvements include building a kitchen area just for baking.
Mark's son Jessie Ostlund, the donut production manager said "Well, it won't look like a Hardee's anymore; it's going to look way nicer."
The donut shop moved to its current location, an old fast food restaurant in 2002. Mark's parents Sanfred (Sandy) and Donna opened the first Sandy's Donuts in 1983.
Along with donuts, you can also get traditional breakfast foods and soups, sandwiches and salads for lunch. They offer a free donut with every lunch purchase.