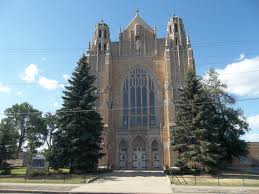 The Sacred Heart Catholic Church in Aberdeen South Dakota is getting the roof repaired and renovated. The 79 year old building is the largest church in South Dakota. While the building is structurally sound there were areas where the roof was leaking into the church and damaging the plaster.
A crew from Minneapolis Contractor, Garlock-French Roofing Corporation is removing the original slate shingles and stress testing them to make sure they do not have any damage and then reused when possible. An estimated 75 percent of the shingles will be recycled.
Restoring the Roof
Any water damaged boards and the felt and underlayment have been replaced. The copper domes on the towers are being repaired and the copper ridge cap is being replaced. A local sculptor will be making some spires to match the original ones that were broken.
Senior Pastor Rev. Shane Stevens said "the slate is being recycled and I like that a lot. It is a green project in that we are recycling everything we can."
The Sacred Heart Catholic church will be raising the remaining $135,000 needed to complete the project. The church's insurance company will be paying $200,000 to cover water, hail and ice damage.
The Gothic Tudor church was built in 1933 in hopes it would someday become a cathedral for a new diocese. When the population shifted to Sioux Falls the church became a local treasure.