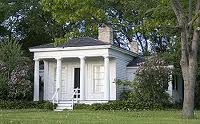 In the Estabrook Park area of Milwaukee the oldest documented home is getting a new roof. The needed repairs are thanks to a neighbor, Mary Kamps who stopped by to look at the Kilbourntown House and noticed the shingles falling off. Kamps together with her friend Diane Buck started a campaign to raise the funds to fix the roof.
The women made brochures and dropped them off at libraries, historical societies and any place they thought there would be an interest in saving the historical house roof by winter.
Disagreement over Who Is Responsible
Milwaukee County Historical Society said the care and maintenance of the house is the responsibility of Milwaukee County Parks. And the director of county parks believes it is the historical society who is responsible for the care of the house.
Over $7,000 has been raised so far, the historical society is managing the Kilbourntown Roofers Campaign. The final cost of the roof repair could be up to $16,000 for the new cedar roof.
The roof contractors of Flowquest Design/build started the roof repair on Thursday on the Greek Revival house and are expected to take 2-3 weeks to complete.
The house was built by pioneer and carpenter Benjamin Church in 1844 and was originally in the middle of Kilbourntown. In 1938 the house was separated into parts and moved by truck to Estabrook Park.
If you would like more information on the house or would like to make a donation, please contact the Milwaukee County Historical Society at (414) 273-8288.