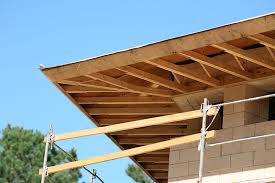 Sheathing is the boards or sheet materials applied on top of roof rafters to form a base on which the shingle or other roofing covering is laid. Sheathing can be made of plywood or solid wood.
Plywood sheathing is used for composition shingles, roll roofing and slate. It can also be used with spaced sheathing if extra strength is needed. Sheathing is covered with tar paper or other water proofing material, and then covered with shingles.
Spaced sheathing is usually made with 1X4's and is commonly used under wood shingles, wood shakes, tile or metal sheet roofs. Generally nailed directly on to the rafters, spaced sheathing can also be nailed over a plywood deck.
Tongue and Groove for Cathedral Type Roofs
Tongue and groove sheathing is commonly used if the sheathing will be visible from inside the house. Using 2X6 boards tongue and grove is very expensive compared to exterior grade plywood sheets. One 4×12 or 4×8 plywood can be installed in 1 minute. Tongue and groove boards would take half an hour to cover the same area.
Your local roofer can replace damaged sheathing when roofing your house. Cut out the sheathing area just larger than the damaged area. Be careful not to cut into the rafters. Cut new sheathing from exterior grade plywood or the same material as your original sheathing. Nail the patch in place with galvanized nails driven into the rafters at 6 inches intervals.
Most building codes have adopted stricter requirements in hurricane prone regions. To strengthen your roof sheathing you can re-nail it with stronger nails or screw it down to help prevent your roofing materials from blowing away in strong winds.