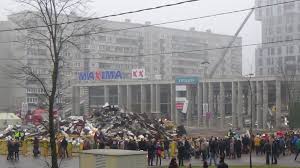 While accepting political responsibility, Latvian Prime Minister Valdis Dombrovskis resigned Wednesday over the supermarket roof collapse that occurred last Thursday.
At least 54 people are dead from the roof collapse in the Maxima Supermarket in Riga Latvia, built in 2011. And another 40 people were injured. Rescue workers continue to search for survivors in the massive wreckage which is one of Europe's worst roof related disasters in several years.
The second collapse occurred after rescuers arrived and a third collapse on Saturday. No rescuers were injured. They are searching through the fallen roof materials and building debris in very dangerous and unstable areas looking for more people.
Trying to determine reason for collapse
Earlier reports indicate the building materials that were stored on the roof caused it to collapse. Other reports indicate faulty building roof-frame specifications or it could have been the work that was occurring on the roof making a garden and children's playground.
Will be examining other buildings for roof repair and faulty structures
Daniels Pavluts Latvia's economics minister said the disaster was "unforgivable" and took part of the responsibility for the collapse since his ministry oversees building projects. He said other important public buildings would receive extensive inspection. Mr. Pavluts said that he will restore some of the oversight policies that were in place before a 2009 decision to disband a national building inspectorate.
Latvia president Andris Berzins said "the roof collapse was like mass murder". He also urges independent experts to investigate the collapse. Police have also started a criminal investigation into the reasons for the roofs collapse.
Latvia's interior ministry said the victim's families would receive 50,000 LVL ($96,600) compensation.