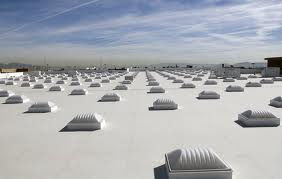 A study conducted by members of the Lawrence Berkeley National Laboratory (Berkeley Lab) and the Technological University in Singapore produced a report called "Economic Comparison of White, Green, and Black Flat Roofs in the United States". The report provides an economic comparison of white, black and green or vegetative roofs.
The study analyzed roof costs for a 50 year life span. The researchers found that the most inexpensive green roofs cost approximately $7 more per square foot than black roofs, whereas white roofs save $2 per square foot compared to black roofs.
One of the authors of the report Arthur Rosenfield said "Both white and green roofs do a good job at cooling the building and cooling the air in the city, but white roofs are three times more effective at countering climate change than green roofs."
The Analysis is Purely Economic
White roofs are cheaper to install and maintain and do have more light reflecting properties. Also white roofs can be installed by your local roofer and use traditional roofing materials, whereas green roofs may involve structural analysis, special liners and landscape designers. Green roofs reduce energy costs, help control storm water runoff and create habitats for local insects, birds and small animals.
The authors of the report recognized the limitations of the analysis such as how much sunlight is absorbed by the plants , how much energy is saved from the extra insulation from the soil and plants, and how much C02 is converted and released back into the air.
Both have their benefits, a green roof is much more appealing to look at than a painted white roof. Rosenfield believes black roofs should be phased out altogether.