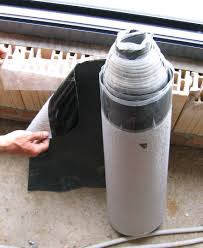 Roll roofing is inexpensive and easy to install yourself although it usually needs to be replaced sooner than other roofing materials. It is most suited where cost is more important than appearance and is generally used for garages and storage sheds with gradual pitched roofs.
Since roll roofing can crack in cold weather, it should not be applied when the temperature is below 45 degrees. You will need roll roofing, roof felt, roofing nails, roof cement as well as a ladder, broom, knife nail gun or hammer, tape measurer, chalk line and trowel.
• Clean the area you will be installing the new roofing. Unroll the roofing material on the ground and let it flatten. Cut a full width strip long enough to overlap the eves and rakes by about 3/8 inch. Reroll the material and take to roof.
• Spread roofing cement onto the roof felt with a trowel no more than 1/8 inch thick, thicker layers can cause the roof to blister.
• Put the roll roofing in place, walk along the roofing material to seal it in the roofing cement.
• Apply nails every 3 inches along the roof edges. Use hot dipped galvanized roofing nails long enough to penetrate the deck ¾ inches. Drive nails about 1 inch from the edge but stagger them slightly to avoid splitting the wood.
• The next course overlaps the first by 2 inches. Use the chalk line to mark where to put the roof cement then apply with a trowel. Walk along the edges to seal and nail top edges approximately 18 inches apart.
• Lay subsequent courses and nail up to the top of the roof.
• Seal the holes by covering with roofing cement. A roof cement caulk can be applied with a caulking gun.
If this sounds like a job you don't want to tackle. Ask your local roofer if they have plenty of experience with this type of roof and get some estimates.