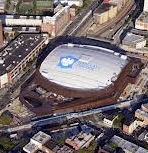 Barclays Center in Downtown Brooklyn New York is scheduled to get a green roof. The 130,000 square foot white dome will be covered in a thin soil layer and small green plants. The Barclays arena opened in 2012 and is home to the Brooklyn Nets basketball team. The new green roof will cover the giant Barclays symbol currently painted on the dome roof.
City officials are hoping the green roof will cut down on the noise from the concerts in the arena. Neighbors have complained about the noise and the thumping bass sounds. Complaints from neighbors in Prospect Heights resulted in a $3,200 fine after a Swedish House Mafia Concert.
Tenants be able to look down at a green roof instead of the current reflective white roof
Site development near the arena plans for 15 towers, 3 of which will surround the arena. City officials believe the green roof will be more attractive to potential buyers of the 6,400 apartments planned for those towers. Forest City Ratner Companies owns the Barclays center.
Originally the green roof was going to be a large public park but was scrapped when they ran into financing troubles. City officials believe this will be one of the largest green roofs in the city.
Construction will begin next year for the green roof installation. It is expected to take 9 months to complete, 3 cranes to hoist the green roofing materials up and 6 months for the plants to be seen.