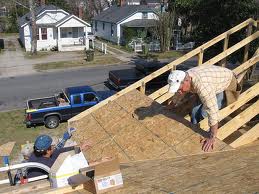 Roof sheathing (or decking)  is the layer in between the rafters and the shingles on your roof.
It is important for your roofs sheathing to be attached securely and in good repair to keep your home dry and structurally secure. Sheathing is not one size fits all, there are different options and considerations when adding new or replacing your roofs sheathing.
Energy Efficient
To get the most energy efficiency possible, use the appropriate sheathing materials. Radiant barriers can be stapled to plywood or OSB before the plywood is installed. OSB is generally more environmentally friendly since it is made from small trees grown in sustainable forests and tree farms.
The typical sheathing materials are plywood, particle board or wafer-board sheathing. If you are not using composite shingles, you can use 1×4 slats instead. Using slats or spaced sheathing is important to keep the wood shakes and shingles from rotting.
1 x 4 Sheathing
Spaced sheathing is generally made with 1×4's this is commonly put under wood shingles, wood shakes, tile and metal panel roofs. For insulation or strength, the slats may be installed over a plywood roof deck. In most cases the 1×4's are nailed directly to the rafters, spaced according to the required exposure of the roofing material.
Particle Board or Plywood
Plywood, particle board or wafer-board roof sheathing is most commonly used. Plywood sheathing is used for composition shingles, roll roofing and slate.
Plywood is also used as for a base for spaced sheathing when the roof requires diagonal strength or a solid wind barrier for materials such as tile. Check with your local code as to which thickness you use, the range will be from 3/8″ to ¾" thick.
Tongue and Groove
Tongue and groove sheathing is used if the sheathing is visible from inside the house, as in cathedral ceilings. Standard 2 x 6 tongue and groove roof decking is used.
Install the first board along the eaves with the tongue edge facing toward the ridge. Stagger butt joints so that they do not line up over the same rafter, and leave 1/16 inch for expansion. Some decking is manufactured with tongue and groove ends as well, so you can place butt joints anywhere.
You can talk with your contractor or roofer to decide the best option for you and your home.