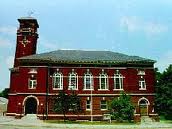 Roof tiles are falling from the town hall on Central Street in Brookfield, Mass.  In 2006 selectmen became aware that Pinnacle Roofing improperly installed the roof resulting in tiles to fall from the roof. The Town Hall roof project was managed by Reinhardt Associates Inc., and the now defunct Pinnacle Roofing of Shrewsbury.
Pedestrian Hazard
The tiles started falling from the town hall last year after becoming loose after the roof iced up.  Snow, ice and 100 fallen slate tiles have fallen from the roof creating a hazard for pedestrians and parked cars.
Considered Options
Two considered options include putting up a snow fence and gutters over the three entrances at the town hall and to install a snow guard over the roof perimeter,  the other options is to extend the snow fence to include the entire perimeter of the roof. Board officials and engineers will draft an article for a special town meeting in November to decide on the best option.
The town's insurance company will not cover the cost to replace or repair the roof stating they are not liable due to "faulty workmanship".  The Town Hall Improvement Account, and money left over from the original roofing job will cover most of the costs of the safety options.