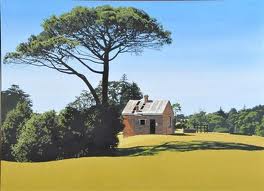 Whitford Pony Club in Auckland New Zealand is getting a new roof for the orange-brick cottage that sits on their land. Local historian says the cottage is more than 100 years old.
In recent years the roof has fallen into disarray and become dangerous. The corrugated iron has been falling off the building and created a hazard. Club Vice President Wendy MacKenzie said they have been trying to raise money to get the building restored since 2001.
Metalcraft Roofing and sister company Akarana Timber supplied the materials and labor for free to repair the ailing roof.
Cost over $10,000 to repair
Jasper Campbell, Metalcraft manager said "I live out in Beachlands, so I drive past it twice a day and our general manager has an association with the Whitford Pony Club apparently years ago with his children who used to ride there."
Howick historian Alan La Roche said the cottage is "a very important landmark in Whitford. It's probably the last brickwork laborer's cottage in Auckland."
La Roche said the cottage was part of a brickworks founded on a 640 acre block of land by John Granger in 1898 and employed more than 20 workers.
Mrs. Mackenzie said as soon as the roof repair is complete, the club will restore the windows to weather seal the cottage.