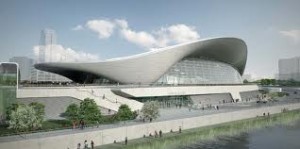 Waves of aluminum supported by 3,000 tons of steel and timber cover the center where the Olympic swimmers will be on Saturday. The double curvature structure visually appears to be a rolling wave.
According to the designers Zaha Hadid Architects the shape is "inspired by the fluid geometry of water in motion."
The steel frame is held together with 70,000 bolts. The steel is unable to provide the curvature needed so they encased Red Lauro timber in aluminum. Only 2 concrete pillars on the north side and a wall at the south end support the massive roof.
To keep costs down, the majority of the aluminum work was done with standard sheets, only about 2% needed specialized cuts. The timber also did not require pre-curving and was cut from flat sheets.
Fascinating Time Lapse Video Captures the Roof Construction
The framework was built on temporary structures and then lifted up to the permanent supports. The span of the new roof is 90 meters and 160 meters in the opposite direction. You can watch a time lapse video of the construction at http://www.london2012.com/venue/aquatics-centre/construction-video.
Once the 2012 Olympic Games are over, two wings of additional seating will be removed making it easier to maintain. The Aquatic Center will still be used for international swimming competitions and a family changing area and café will be added.