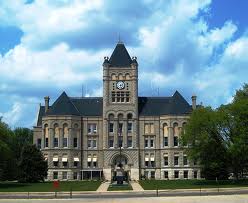 In Beatrice Nebraska, Gage County Board of Supervisors hired Omaha based Scott Enterprises to replace the historic courthouse roof. According to court documents Scott Enterprises Inc., states the county did not pay the full amount agreed upon. They are suing the county for $59,271 for the remainder due on the contract.
From April 2009 to December 2010, the roofing contractor replaced the asphalt roof of the courthouse with Vermont green slate. The county initiated 12 change orders from the original contract of $392,399 increasing the cost of the project to $519,968.04. The county paid $460,700 and states the new roof is functional and does not need any further repair.
County "Disagreed" With the Payment
Chief Deputy Attorney Rich Schreiner of Gage County said the decision was made about the amount of the final payment after consulting with Berggren Architects. Schreiner said "We disagreed the way some of the work was performed and adjusted our payments accordingly."
The $2.9 million bond to renovate the courthouse included replacing the asphalt roof to the Vermont green slate shingles to look more like the original roof from 1892.