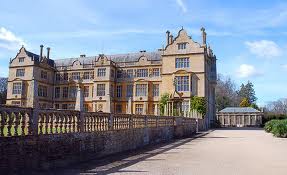 Montacute House was built in the late 16th century for Sir Edward Phelips. The orangery was added to the property in the 1840's to cover and protect the winter orange trees.
The orangery roof was reconfigured shortly after construction but little was spent on the orangery during the years. The oak rafters, beams and hips had begun to rot and the weight of the snow for two consecutive years caused the old roof to collapse.
National Trust now runs the property and raised £10,000 through raffles to pay for the roof repair. Each glass pane was recorded and carefully removed when the roof was dismantled. 2,380 panes of glass had to be restored, replaced and cleaned before being refitted in their lead casing.
Visitors Watching the Restoration
Visitors are able to climb a platform on the scaffolding and watch the restoration work being done on the Montacute House Orangery.
Edward Phelips had acquired enough wealth through his inheritance, legal work and role at court to build the house in his home village. William Arnold, a master mason was appointed to oversee the building of the house. The house was designed as it was built, estimated cost to build Montacute was £20,000.