Identity theft is the most prevalent white collar crime in America, but recent trends have begun to lean more towards scams.  Sadly, the main target for such criminals is senior citizens. As the baby boomers begin to age, more senior citizens become the victim of many types of scams.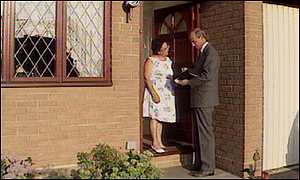 These days, criminals are evolving with the times. As more new alerts are educating seniors about ways to look out for traditional scams, criminals are changing their tactics.
Who Is At The Door?
It isn't uncommon to have perfectly legitimate contractors leave flyers on the door advertising their services, some many even knock on the door to speak with a homeowner personally. It can be very difficult for some to determine who is legitimate and who is running a scam. Senior citizens are often easy targets for door-to-door "salesmen" as they tend to be more trusting and may not have anyone around to help them make choices.
Roofing scams have become increasingly popular, especially in established neighborhoods. Fraudulent contractors will knock on door, warning seniors about the damaged state of the roofs. With little ability to check the quality of their roof themselves, many seniors begin to trust what the contractor recommends. These scammers will arrange for an inspection to be completed to "verify" the existence of damage to the roof. Senior homeowners are lead to believe they can save money by replacing the roof with the contractor that caught the damage "just in time".
The biggest problem: these fraudulent companies do not follow legal protocol. Many of these roof contractors fail to apply for, and obtain, the necessary permits for new roof construction. They rarely document their work or file the claim with the insurance company. The homeowner is left to foot the entire bill, usually without any record of the completed work. Without documentation of the work, these seniors are left without any warrant on the product or way to prove payment.
 Protect Yourself
To prevent becoming a victim of roofing scams, follow these simple tips:
Ask for references and credentials of any door-to-door vendor.
Verify the contractor is licensed or registered with the county.
Get inspections and quotes from multiple contractors.
Always get documentation of the completed work, warranty of the product and a copy of payment to be filed to the insurance company.