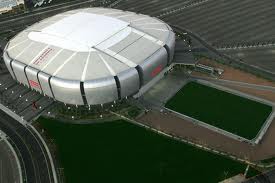 A thunderstorm with high winds damaged the roof of the University of Phoenix Stadium (home to the NFL's Arizona Cardinals and the Tostitos Fiesta bowl) in Glendale Arizona this past Thursday.
The winds caused a piece of outer metal skin to flip up and puncture the white canvas like fabric that stretches across the retractable roofs steel girders. The holes allowed water and debris to fall onto the stadium floor. No one has reported being injured from the falling debris.
Stadium officials are still assessing the damage and how much repairs will cost. The Cardinals are set to open their preseason game at home against Houston on August 14th.