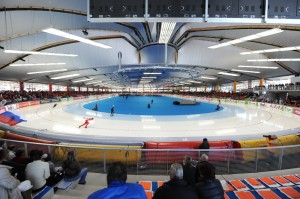 Winter sports fans in Germany are proud to be the home of an award winning stadium. The Speedskating Stadium Inzell, in Germany, won the 2011 World Architecture Award for its sporty roof. The stadium's new roof earned the award for its unique design and innovative structure.
A Dazzling Design
Once an open air track, the stadium's roof now covers the ice skating track without the use of interior columns, a first of its kind. The roof offers spectators an uninterrupted view of the surrounding mountains by boasting a continuous glass facade. From the outside, the roof looks like a cloud perching over the building's sides. The roof was shaped to help the retain the track's low temperatures for ideal skating conditions.
The stadium's roof also includes large north-facing skylights, which make use of the limited winter daylight. The skylights are part of a green roofing initiative intended to reduce reliance on artificial lighting, efforts that are much appreciated in such a large arena. The roof materials also consist of a membrane that reflects the cold air from the ice back towards the track to create a thermal effect.  Nearly 7,000 spectators can enjoy watching their favorite sport in this first-class facility thanks to the innovative efforts of Behnisch Architekten.