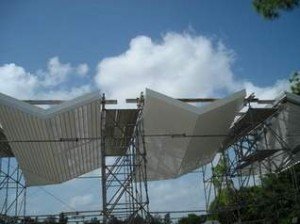 3 mock up panels of the roof for the new Boston Red Sox spring training stadium are perched high on scaffolding in the adjacent lot. The mock up panels are the same design from the drawings and are on display for approval by the Red Sox and Lee County.
Kraft construction assembled the panels and will be the firm that will build the $80 million spring training complex. The ballparks seating capacity will be 11,000 and is expected to be completed in time for the spring training in 2012.
The facility will be built on Daniels Parkway in Ft. Myers Florida near the Southwest Florida International Airport. Ft. Myers in Lee County has been home to the Boston Red Sox for spring training since 1993.