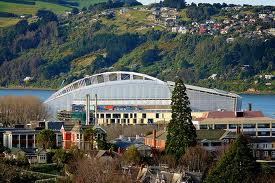 The largest transparent polymer or plastic covered structure in the Southern Hemisphere was recently completed at the Forsyth Barr stadium, in Dunedin New Zealand. The clear ethylene tetrafluoroethylene material was originally developed by the space industry. The 7.7 acre clear roof allows grass to grow inside the enclosed arena while protecting the fans from the elements.
The stadium was completed on time and on budget in time for the Rugby World Cup tournament. The ETFE (ethylene tetrafluoroethylene) covers the roof and part of the facades allowing maximum sunlight and fresh air onto the field. "The new roof means we can maintain a constant temperature and grow a stronger grass which will not become boggy because it will never rain, snow, or hail inside the stadium during a game at Forsyth Barr." Said Ron Van Sluijs, project architect of Forsyth Barr stadium.
The stadium will be New Zealand's largest indoor venue able to seat 30,000 fans. The first rugby game will be held on August 7, 2011, the North Otago vs. West Coast 2011 Heartland Championship. Elton John plans to perform a concert on November 25, 2011. 20,000 permanent and 11,000 temporary seats are angled allowing spectators to be closer to the action.
Construction began in June 2009 by Local firm Jasmax and the architecture firm Populous designed the Forsyth Barr stadium.