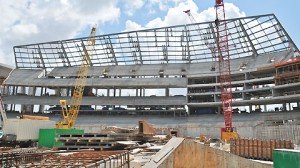 Florida Marlins stadium in Miami scheduled to open in April 2012 will have the nation's first retractable roof earning the "Leadership in Energy and Design" certificate. The US Green Building Council has given credits for some of the stadiums environmentally friendly designs. In addition to the retractable roof, there will be 2 salt water aquariums behind home plate. Both will be 36 inches high, one is 34 feet long and will hold 600 gallons of water and the other is 24 feet long with 450 gallons of water. Both tanks will have bullet proof glass in front of and in back of the acrylic panels.
The stadium is in East Little Havana, in the same neighborhood as the former orange bowl. This $642 Million stadium will have 37,000 seats and about 1,000 designated standing room. Providing a comfortable environment keeping out the rain and extreme heat that have kept attendance low at the existing Sun Life Stadium.
You can see complete sketches and simulations of what to expect for the new stadium at the sales headquarters overlooking the construction site on NW 7th St. or you can view all stages of construction from the new ballpark webcam at mlb.com . The retractable roof construction will be the focus for the next 11 months.