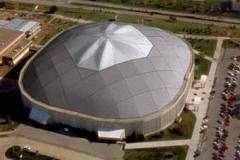 Workers have begun repairs on the dome roof at the University of Northern Iowa in Cedar falls. The stainless steel roof was seriously damaged about a year ago during a wind and hail storm. The project is expected to be completed by October said the contractors at Schwickert's of Mankato, Minn.
University officials decided to replace the stainless steel with polyvinyl chloride or PVC, the new membrane will make the roof look white, just like the original roof prior to 1994. Once the PVC is in place it will be covered with the same material that topped the stainless steel dome. The new PVC roof comes
with a 30 year warranty and annual inspections.
The project is expected to cost $1.8 million to repair. Officials were originally told it would be $4.3 million to replace the stainless steal roof.
FEMA will help the university cover the $100,000 deductible and Traveler's Insurance Company will pay for the new roof.
The domes original air inflated canvas roof was replaced with the stainless steel after it was severely damaged in a December 1994 snow storm.