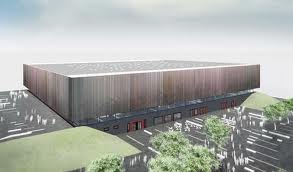 The new 7,000 seat handball arena for the 2012 Summer Olympic games in London is due to receive a new copper roof. Construction on the roof recently finished and is now being wrapped in 3,000 square meters of mostly recycled and sustainable sourced copper. The cladding is due to be completed by the end of 2010.
The arena includes 88 rooftop "sun pipes" that reflect sunlight onto the field of play. Photo sensor lights come on when the sunlight fades or disappears during the daytime. The sun pipes were designed to switch off in cases such as a broadcast to be filmed during a live game. The estimated saving on lighting costs and energy usage are up to 40%.
The new arena has also incorporated a rainwater harvesting system. By collecting the roof's water, and reusing it for the plants and lawns, reducing waste by an estimated 40%.
When the Olympics are over the arena can be adapted to become a multipurpose venue for community use. The retractable seating allows for more versatility for athletic training and public events.
Buckingham Group Contracting in Stowe, Bucks is building the arena and expects to be completed by early 2011. The roofing, copper cladding and sun pipes were completed by IRC Carocelle based in Walsall.